Human sex trafficking is a form of modern-day, sexual slavery and is a violation of human rights, and one group at SFA is taking a stand against it.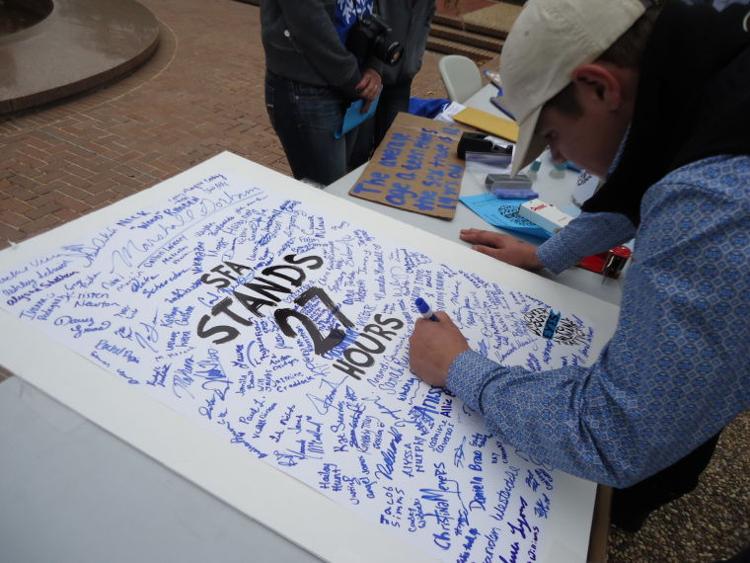 The SFA 101 class under the instruction of Ashley Schmitt has chosen Human Trafficking as its service project to help raise funds and awareness. Students are literally taking a stand against this crime from 9 a.m. to 6 p.m. today and Thursday in front of Surfin' Steve. They also stood on Tuesday.
"I think it's important that people are aware of what is going on and that we take a stand against it and try to help rebuild the lives of the people who are affected," said Mary Beth Wright, early childhood education major. 
Participants sign up for one-hour shifts, and, over the course of three days, will stand for a total of 27 hours to represent the 27 million people affected by human trafficking today. 
Schmitt said the class decided on this topic because it "hits very close to home," especially with their donations being raised for a group in Houston. 
SFA 101 student instructor Jackie Viera is pleased with the students' work.
"Our students have been working very hard, and it's a great experience to see this being built from the ground up," Viera said. "This project has involved a lot of outside work and time management—it's a very hands-on project with great life lessons being learned." 
According to a flier handed out at the table that lists facts and statistics, "71 percent of victimized children have suicidal tendencies...Every one  in five girls and one in 10 boys are victims of human trafficking before reaching adulthood." Also, "A victim may be forced to have sex anywhere from 20 to 48 times a day." 
With a $5 donation, students will get a shirt and a bracelet to help raise awareness. 
Kara Holland, a student in charge of budgeting for this project, spoke on behalf of her entire class when she said they are "proud to be a part of this project, especially in that 100 percent of the donations are going to 'Free the Captives: Houston.'"
The flier also pointed out that "Texas is the No. 1 point of illegal entry into the United States for human trafficking."
According to Free the Captives: Houston mission statement on their website, this non-profit organization "fights the exploitation and trafficking of Houston's youth."
For more information visit, freethecaptiveshouston.com.